Every year I spend lots of time planning what to get my husband for Valentine's Day. Something techie, something for daily use, something wearable. The possibilities are endless.
This year I wanted to make something different to give Mr. L. He used to have a designated place to keep his ring and watch. It's been a while since he doesn't have one. Here's a jewelry dish easy enough to make and stunning enough to give to a special someone.
Materials needed:
Oven Bake Clay (color of your choice)
Rolling pin
Large round to trace over clay (about 6 inches)
X-Acto knife
Small oven safe dish or ramekin
Gold Multi-Surface Paint
Paint brush
Glaze seal (optional)
Steps to follow:
Roll each color of clay that you wish to use into a log of about 5 inches long.
If using white as a base color (like I did) make two slightly larger logs.
Since it's Valentine's Day I added a smaller log in pink. Red would do too.
Combine all the rolls together and twist.
Roll to about twice it's original length, fold in half and twist again. It should have a marble effect.
Smooth the clay into a ball. The idea is to see most of the colors on the surface of the ball.
Using a rolling pin roll out the ball into a flat circle. Roll towards all sides to move around the different colors of clay. Roll to 1/4inch thickness.
Using a 6inch round pattern trace over the clay and cut using an X-Acto knife.
Place your circle gently into an oven-safe dish or ramekin that is a bit smaller. This will help your clay sag a little in the center and give it a dish shape.
Bake the bowl according to the instructions found on your bake clay package. The brand I chose bakes for 265 degrees for 15 minutes.
Remove the dish from the oven and allow to cool completely before turning the large dish over. Once cooled, turn dish over and gently tap it to remove your clay dish.
Once the clay dish is completely cool use a small brush and paint the rim of the dish in gold. Once it's dry you can go ahead and seal your clay dish with a glaze. This step is optional.
Note: Sealing your clay dish with a glaze won't make it food safe or completely waterproof, but it will the dish a glossy finish.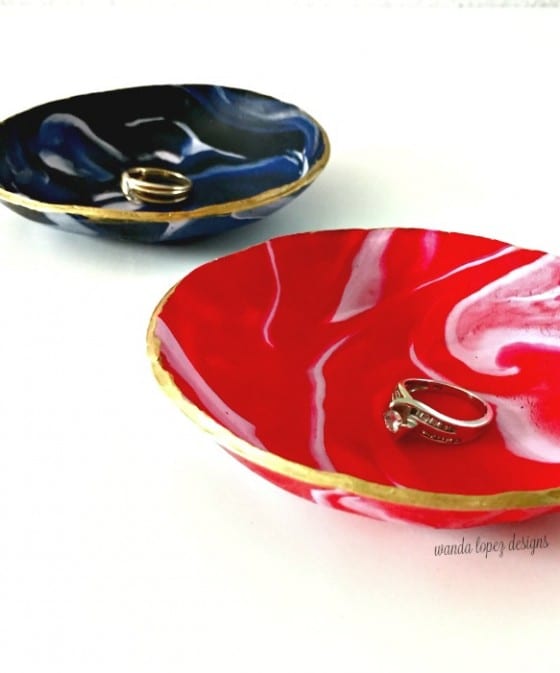 Aren't they lovely? They can easily be customized. A wonderful gift idea for Mother's Day! Which color combination would you like?