Cruises are one my favorite vacation options. The entire family enjoys it, it's all inclusive and there's no driving required. Sounds like a win-win to me. And for a greater win my family and I are going to be enjoying a Disney Cruise. Now, what to pack? I came up with some outfit options that are a great base for different occasions. For excursions, for days on the sea, for formal dinners and those nights where a non-formal attire is acceptable. We all want to look good during a trip, but we don't want to over pack. At least I don't.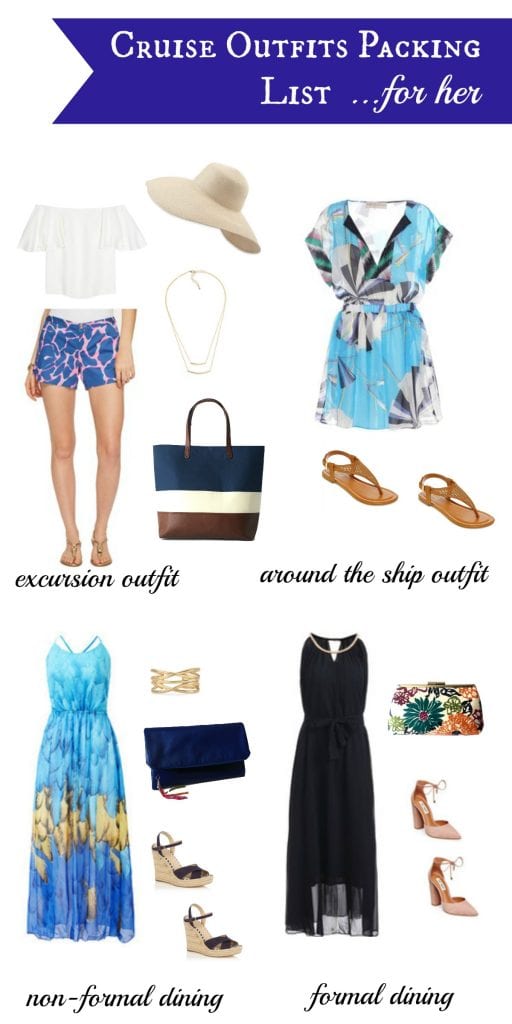 Valentino Slick Off-The Shoulder Blouse / Lilly Pulitzer Adie Shorts / Woven Floppy Sun Hat / Metallic Double Bar Layered Necklace / Indigo and Cream Leather Canvas Tote Bag / Emilio Pucci Beach Printed Beach Dress / a.n.a Stella Thong Sandals / Gracila Feather Print Backless Sleeveless V Neck Chiffon Dress / Stella & Dot Stella & Dot Adelina Cuff / Paris Blue Fold Over Leather Clutch / OASIS Felicity Espadrille Wedge / Chain Keyhole Collar Chiffon Maxi Dress / Bettie Floral Metal Frame Clutch / Steve Madden Pampered Shoes
It just happens that this cruise falls near my daughter's 15th birthday. If you know any Latino family you know by now that a 15th birthday for any girl is a big deal. Like the Sweet Sixteenth for the American culture. We have been trying to come up with a good idea of how to celebrate her birthday in a way that she has a great time and so does the rest of the family. A trip was always on the top of my list. A party was on top of my husband's list. Disney Cruise Line was the perfect tie breaker. We all win!
Now it's your turn, tell me what are your must have items to pack for a cruise or any vacation trip? Maybe your ideas will make it into my suitcase next time we head to a new adventure.