Are you not feeling very productive this week? You're not alone. This has been a roller coaster kinda week. With many emotions, feelings and wonders. We are all trying to figure out what's to come. No one really knows for sure and all we have left to do is put one feet in front of the other and keep on moving forward. Politics aside, I have had other not so productive weeks too and they have nothing to do with a huge distraction like the one we are all experiencing right now.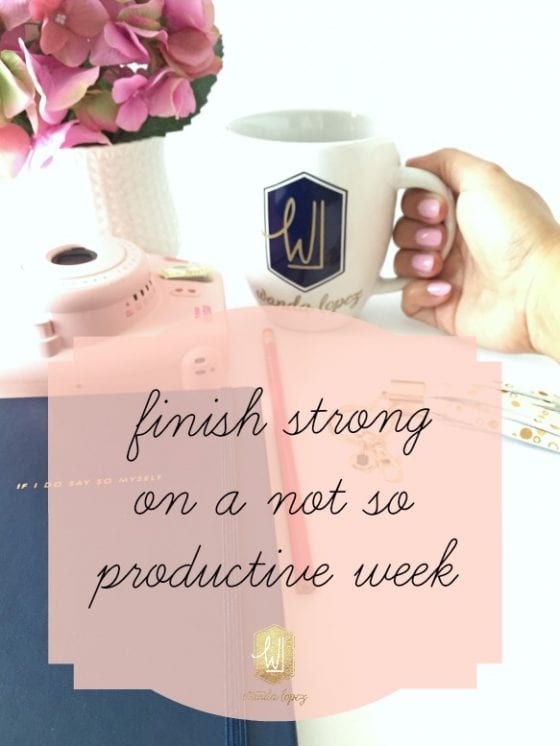 I have some tips to keep me on task or at least end the week with some grace that I think could be good for you too. Also I learned that everything in my to do list doesn't have to get crossed off. And honestly, most weeks, things on my to do list get transferred to the upcoming week. No shame on that. I rather be present in my families life than go crazy taking up all the time I am awake to finish a list I created and could even be an unrealistic to do list in the first place. So, go ahead, make a to do list and then look at it. Really look at it and count the hours of the day you realistically have to work on those tasks. Not so realistic, right? I hear you!
Get help
Don't be afraid to ask for help. Hire a cleaning lady to keep your house tidy. Ask for help for carpooling the kids from school. You can make a trade, you'll drop them off and another mom can pick them up. Nice, right?
Turn to your closest friends and family for support. Maybe all you need is a couple of hours of daycare. Ask your friends and family members to help with your kids while you focus on work. A trade can be a good idea too. Another mom watches your kiddos for a couple of hours today and you'll do the same for her on another day. It's a fare trade and you can tackle those items on your list without any distractions.
Working from home sometimes feels like going through a maze. You have to juggle so many balls and don't want to drop any of them, I know, I'm with you on this one too. You're not alone, and getting help does not make you a failure in any way.
Lean on your A-Team
If you have a team, lean on them too. That's what they are there for. I have a wonderful team that helps with social media, content creation, and customer support, while I focus on production. This is something very new to me too. I was a one girl show, sometimes I am. I have an accountant, a social media strategist, a sitter, an IT guy that helps with my web and many good friends that help out tremendously, In my plans is to hire a Va, I'm praying on that. But, for now, I work with what I have and love them all.
Making and creating are like comfort food for my soul. That's my happy place and in order to be present making and creating I need help on the more administrative side of the business, that's where I am less productive and slower at too. What takes me four hours may take someone from my team one hour or less, get the picture?
Eliminate obligations
Feeling overwhelmed by everything? Eliminate obligations. If you can, cut back on your workload for the next few weeks. Keep your evenings clear of unnecessary commitments. Say no. Don't make plans on the weekends. Keep your calendar open so you can do what you want to do. Don't take on the extra project, if it means adding more to your plate when you are already overwhelmed with what you have in hand. You want everything in life to be as easy as possible right now, so don't create unwanted stress by saying you can do something you don't have time for. That's goes for your to do list too. Stop adding tasks you don't have time for. Really!
Co-Schedule
Maintaining a constant social media presence can be difficult, especially for busy entrepreneurs looking to stay in touch with their communities. Luckily, there are plenty of tools out there to help ease the burden. One of the most useful functionalities for a social management tool is the ability to schedule updates. Take advantage of scheduling tools and plan for the days ahead. This is something you can tackle once a week and free up your time for other tasks that needs more attention.
I know there are many options available for scheduling your posts and social media. My IT likes Hootsuite, I am thinking on giving Meet Edgar a try. There is also the Facebook Scheduled Post feature that I am enjoying and it's free. Do you have a favorite scheduling tool? Please, share it with me. I am working on being as proactive as possible and know many of you are too.
How has your week been? Are you feeling tired, or maybe accomplished, worried or confident that everything will turn out better than you may think. We don't know what the future holds, but we can take care of ourselves and our family…today. Have a lovely day and remember you are loved.